Digital Books: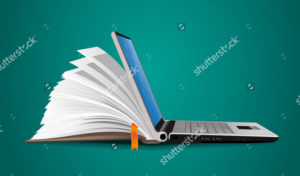 If you want to read a whole book, or a long article, you should probably read it inside an app. Often it is more comfortable to read on a tablet. For longer items, reading apps allow you to highlight and take notes on an article or a book and save them. You can also search your notes and highlights later if you are looking for a specific piece of information. Notes and highlights can be printed out so you can study, or look for material to use in a paper.
Commercial e-readers have limits on their TTS capabilities because of copyright restrictions on audio versions of books
---
Google Play, Kindle, iBook and Nook
The apps are free, however, you pay for the books.
All but iBooks are available on multiple platforms.
They all have dictionary, highlighting and annotation options.
Text to speech is not very easy or high quality for copyrighted works but can be made to work on some devices.
Kindle owns Audible, so you can usually purchase the Audible version of a book for a discount.
---
Free sources for ebooks
Bookshare:
If you are an individual with a documented reading disability, you can use Bookshare.
(see here for more detail: https://www.bookshare.org/cms/bookshare-me/who-qualifies)
Free ebooks, including textbooks for people with reading disabilities.
Almost all current commercial fiction and non-fiction are readily available
You can submit a request for books to be digitized can take 4-6 weeks.
Option to download a pure audio version of a text to use with MP3 player
Free software for all devices to read these books available to members

Our recommendation is VoiceDream, although it is not free
---
Registration also required for the following free sources of e-books:
New York Public Library – just regular registration, no proof of disability required, has ebooks and audiobooks
The Andrew Heiskell Library – requires registration and proof of reading disability but offers special services.
The National Library Service for the Blind and Physically Handicapped – requires registration and proof of reading disability
---

No registration required for the following free online sources of e-books:
Project Gutenberg – offers over 53,000 ebooks
Google Scholar – free published articles.
Textbooks (k-12) – California digital textbook resource
Internet Archive – More than just text, also pictures, videos and websites
---
Audio Books:
If you are just listening for pleasure, and don't need to take notes, an audio book can be just the thing.
 Sources of pure audio books
Librivox – free recordings of public domain books for anyone
Audio recording of public domain books read and recorded by volunteers.
Learning Ally – requires registration and proof of reading disability and an annual fee
Audio versions of over 80,000 textbooks and literature.
Offers membership to qualified students and individuals for an annual fee.
Reading Ally offers free software and apps for Android devices, iPad, iPhone or iPod.
Audible – high quality dramatic readings for a fee, available to anyone.
Can be bought in conjunction with Kindle e-books and they will sync.